Made of hardened and ground steel of the highest quality, our molds are made ad hoc on customer's request and specifications.
To increase the longevity and ease of ejection of the pad, it is possible to carry out bright chrome plating on the punch end, the holes in the die and the upper surface of the same.
In the case of highly corrosive materials it is possible to carry out the additional DLC (Diamond Like Carbon) treatment.
Hardened and ground steel
Chrome plating
DLC treatment
Fully customizable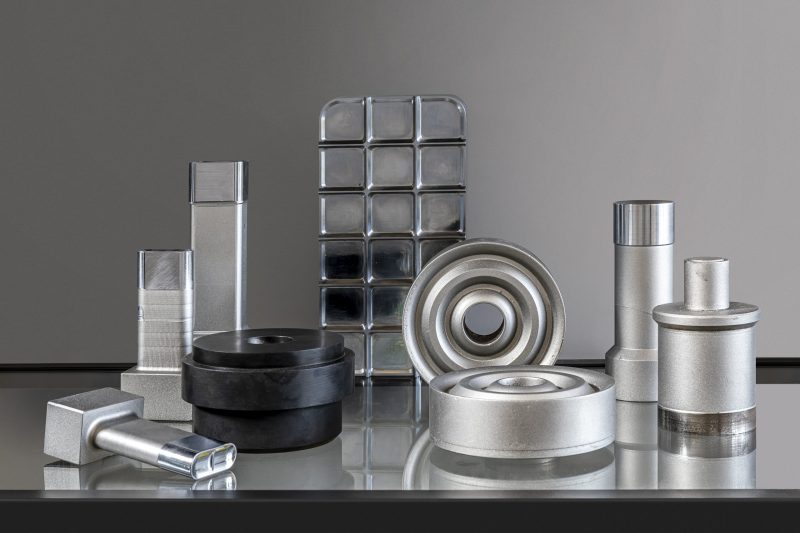 TECHNICAL INFO
Maximum size
Ø

300 mm
200×200 mm
NEED MORE INFORMATION ABOUT OUR PRESSES?
You can contact our offices directly at +39 02 97271846 or write an email to info@tecnoprecisaservice.it
WHAT SHAPES ARE POSSIBLE FOR THE MOLD?
Any shape is possible respecting the maximum diameter of 300mm.
IS IT POSSIBLE TO HAVE DIFFERENT TYPES OF MOLDS FOR THE SAME PRESS?
ABSOLUTELY Yes, within the limits of the technical characteristics of the press it is possible to produce molds of different shapes and characteristics.
HOW LONG DOES IT TAKE TO PRODUCE A MOLD?
Depending on the required characteristics, the production of a mold varies from 60 to 90 working days.